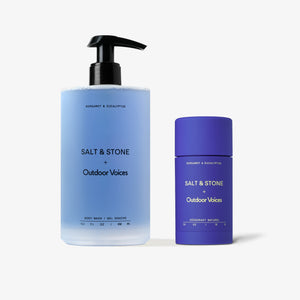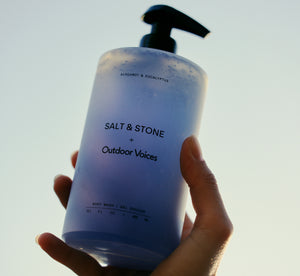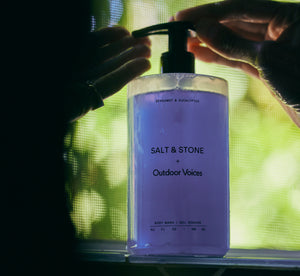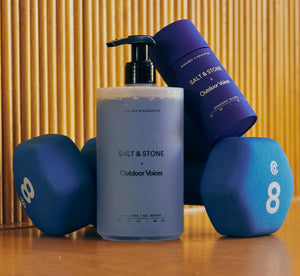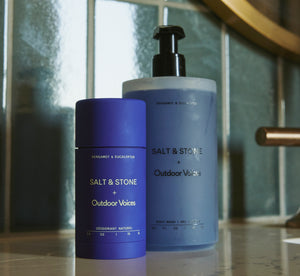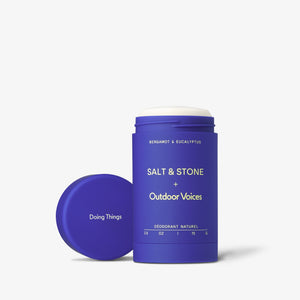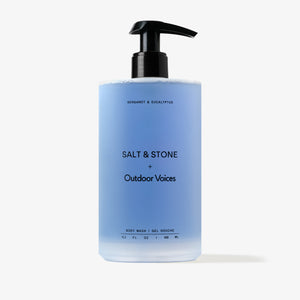 The Outdoor Voices Duo
The limited edition Outdoor Voices Body Duo pairs our best-selling Antioxidant Body Wash and Extra Strength Natural Deodorant in refreshing Bergamot & Eucalyptus. These hardworking formulas are designed to perform when you need them to, while being gentle enough to restore skin exposed to the outdoors.
Please Never Stop Making This!

I absolutely love this scent. It's so fresh and clean. I wish there was a body spray, perfume, linen spray, candle, room freshener, car freshener... when will this br back in stock?

Ode to the Outdoor Voices Duo

Have you ever stumbled upon something so delightful that you felt the urge to write a review about it? Well, that's precisely what the Outdoor Voices Duo did to me. It's not just a body duo; it's a dynamic duo, the Batman and Robin of skincare, if you will.

Now, I understand collaborations can be hit or miss. Some are like peanut butter and jelly, while others are more like... toothpaste and orange juice. But SALT & STONE and Outdoor Voices? That's a match made in skincare heaven, akin to Sherlock and Watson solving the mystery of the perfect scent.

Speaking of scents, Bergamot & Eucalyptus? Genius! It's as if a zesty orange went on a spa date with a cool eucalyptus leaf. The result? A fragrance that's both invigorating and relaxing, like doing yoga on a mountaintop.

If the Outdoor Voices Duo were a movie, it'd be a blockbuster.

So, for the love of all things fragrant and fabulous, please bring it back!

The world needs more dynamic duos, especially ones that smell this good.

Love This So Much

I love this body wash so much! It smells so good and lingers for a long time! It also lathers very nicely! The deodorant smells so good as well and lasts! Please do not discontinue either of these products and please restock the deodorant - I'm begging! lol

Best ever!

Hands down the best body wash!
Reviews Loaded
Reviews Added